Price search results for Loon UV Clear Fly Finish Thin .5oz (product no longer available)
---
Related Products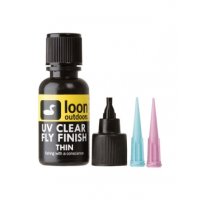 Loon's Thin UV Clear Fly Finish is perfect for creating small wing cases or heads, coating a thread-head, or finishing a fly. It is less viscous than Loon's original fly finish so it goes on thinly. Simply expose it to sunlight or one of Loon's UV Lamps,...
--- Loon UV Clear Finish ThinWith less viscosity than the original, UV Clear Fly Finish Thin is perfect for delicate applications, going on thin without sacrificing curing speed and strength. It can be used to make smaller heads, bodies or wing cases, or...
---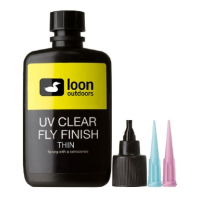 UV Fly Finish from Loon is the perfect way to instantly add bold or subtle details to a fly, or to change the color all together. The UV cure gives the freedom to make changes on the water, as the paint cures in seconds when exposed to direct sunlight...
---