Price search results for RIO Products InTouch Deep 6 Dark Olive Green Hang Marker WF8S6 (product no longer available)
---
Related Products Features: Designed, Manufactured and Assembled in the USA Anodized aluminum body construction Replaceable jaws - machined out of premium grade stainless steel, then heat treated to 58-60rc Saltwater resistant Engineered to Cut 7x - 100 lb mono and braid...
--- THE ABEL ZINGER It took awhile, but fly reel manufacturer and creative machine shop Abel Automatics, Inc. has streamlined, modernized and perfected the ubiquitous tool found on virtually every fly fisher's vest: the zinger. Used to hold nippers, clippers,...
---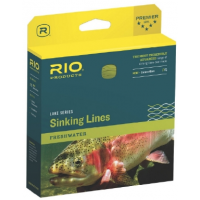 The Rio inTouch Deep 3 fly line is specifically designed for the still water trout angler. Its slow sink rate - three to four inches per second - makes for long presentations and its non-stretch ConnectCore allows you to detect even the most subtle takes....
---