Scientific Anglers Vest Pack Assortment
%20%20%20%20Design: All the basic fly fishing tools you need in one convenient pack%20%20Contents:%20* Retractor%20- Stretches to 15" (38cm)%20- Pin-back attachment%20* Nipper%20- Multi-purpose tool handles many tasks%20- Hardened steel construction for lasting value%20- EyeOpener feature quickly clears hook eyes%20- Hardened edge stays sharper for reliable cutting%20* Forceps%20- Locks securely in three positions%20- Serrated jaws grasp securely and hold on%20* Leader Straightener%20- Straightens leaders to eliminate coils%20- Works great on wet and dry leaders%20%20%20%20
---
Related Products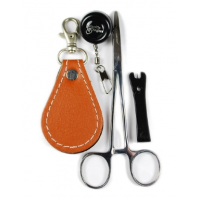 The Scientific Anglers Vest Pack Assortment works with a vest, and just as well with a pack. However you like to carry your fly fishing accessories, you'll appreciate that this kit includes a handy retractor, a pair of serrated-jaw forceps, a hardened...
--- Teasers are used often to attract a fish so you can make a shot with a fly, the Disco Teaser is designed to have the same effect but with a single line and rod. Meant to be fished in front of any streamer or by itself with a bare hook. Includes a barrel...
---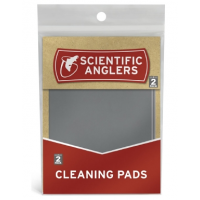 Imagine how dirty your car is right now. Multiply that by 10 and that's how dirty your fly line probably is. Grab a fly line cleaning pad and make sure that line is good as new for your next trip.
---
Retractor stretches to 15 inch and pin-back attaches easily to shirt, vest, or pack. Forceps lock securely in three positions; serrated jaws grasp securely. Nipper made of hardened steel, stays sharp, and can quickly clear hook eyes. Other Accessories....
---