Scientific Anglers Vest Pack Assortment
Design: All the basic fly fishing tools you need in one convenient pack Contents: * Retractor - Stretches to 15" (38cm) - Pin-back attachment * Nipper - Multi-purpose tool handles many tasks - Hardened steel construction for lasting value - EyeOpener feature quickly clears hook eyes - Hardened edge stays sharper for reliable cutting * Forceps - Locks securely in three positions - Serrated jaws grasp securely and hold on * Leader Straightener - Straightens leaders to eliminate coils - Works great on wet and dry leaders
---
Related Products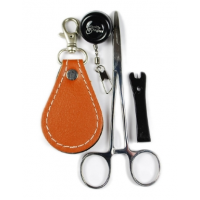 The Scientific Anglers Vest Pack Assortment works with a vest, and just as well with a pack. However you like to carry your fly fishing accessories, you'll appreciate that this kit includes a handy retractor, a pair of serrated-jaw forceps, a hardened...
--- Scientific Anglers Anadromous Leader 2 PackThe new Salmon/steelhead leaders from SA feature the highest wet knot strength in the industry. * 2 Leaders Per Package* Length: 9'* For both fresh and salt water, Spey and conventional casting* Stiffer...
--- Scientific Anglers Bass Leader 2-PackSpecifically designed to handle larger bass flies and poppers, our freshwater nylon Bass leaders feature a heavy butt section and powerful taper that help turn over the largest flies. They feature the highest wet knot...
---
Retractor stretches to 15 inch and pin-back attaches easily to shirt, vest, or pack. Forceps lock securely in three positions; serrated jaws grasp securely. Nipper made of hardened steel, stays sharp, and can quickly clear hook eyes. Other Accessories....
---
COMPLETE SET of Fly Fishing Tools with Slim Fly Box from our "Cut and Dry" Series. These steel tools are precision made and POWDER COATED for years of reliable use. This set is packaged in classic K&E Outfitters style and makes a PERFECT FLY FISHING GIFT...
---
Scientific Anglers Vest Pack Assortment.
---